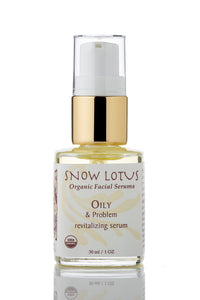 Oily & Problem Skin Organic Facial Serum (Snow Lotus)
Snow Lotus' revitalizing serum is formulated especially for oily, overactive, congested or problem skin involving excessive sebum production. Both the vegetable and essential oils chosen are specific to resolving this condition. This serum may also be helpful for acne, pimples and blackheads.
Ingredients:
Oils of organic apricot kernel (Prunus armeniaca), organic argan nut (Argania spinosa), jojoba bean (Simmondsia chinensis) and evening primrose seed(Oenothera biennis); organic essential oils of Bergamot, Rose geranium, Lavender, Sage, Laurel and Atlas cedarwood
30 ml / 1 oz
Directions:
For best results, after cleansing mist with a hydrosol to tone and moisturize. Then apply the serum formula thinly, gently using an upward motion on the face. Best results are always obtained with consistent use over a minimum 10-day period. 
Snow Lotus Revitalizing Serums are particularly effective after a facial steam, compress or deep-cleansing mask while the pores are still open.