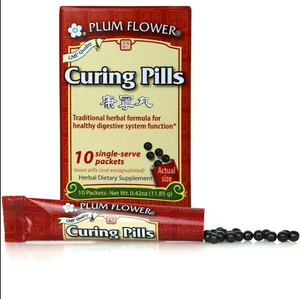 Kang Ning Wan (Curing Pills) [10pk]
Description:
Curing Pills are one of the most popular herbal products in China, used widely to relieve digestive imbalance associated with stomach dampness, food stagnation and excess wind. This all-natural herbal formula acts to regulate digestive qi, disperse wind-cold and resolve dampness from the body.  
Packaging:
10 single-serve packets (Regular)


Suggested Use:
1 packet, 3 x day
As needed
Ingredients:
Poria cocos sclerotium
Coix lacryma jobi seed
Pogostemon cablin herb
Magnolia officinalis bark
Angelica dahurica root
Massa fermenta
Atractylodes lancea rhizome
Aucklandia lappa root
Pueraria lobata root
Setaria italica fruit
Trichosanthes kirilowii root
Chrysanthemum morifolium flower
Citrus reticulata exocarp
Gastrodia elata rhizome
Mentha haplocalyx herb

Other Ingredients:
Hydrated magnesium silicate, Activated carbon, China wax.
Customer Reviews
08/05/2019
Anonymous

United States
Curing Pills are a must!
I have been using these pills for years for my kids thru grade school. First sign of any type of stomach bug they ask to take them and feel better quick, rarely did it lead to them throwing up! Love them!