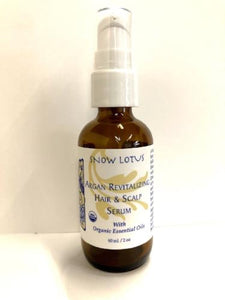 Argan Revitalizing Hair & Scalp Serum (Snow Lotus) [60ml]
A comprehensive rejuvenating serum for hair and scalp that stimulates hair growth, nourishes hair follicles, glosses the hair and soothes, moisturizes, decongests and regenerates the scalp.
Use after washing for  best results. This serum works especially well for dull, tired or brittle hair, and for hair loss; for dry, irritated itchy scalp, and oily congested scalp.
Chinese medicine functions: Activates blood and Qi, moistens dryness
Ingredients: Organic argan oil (80%), organic essential oils of Rosemary (4%), Juniper berry (4%), Palmarosa (4%), Atlas cedarwood  (4%)and Ylang ylang (4%)