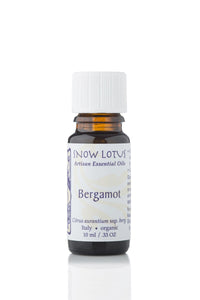 Organic Bergamot Essential Oil (Snow Lotus) [10ml]
10 ml
Botanical source: Citrus x bergamia
Plant part used: The rind
Origin: Calabria, Italy
Production: Cultivated and certified organic 
Extraction method: Cold expression
Ingredient: 100% Bergamot

Fragrance profile: A smooth blend of sparkling fresh-citrus notes mingling with full-bodied fruity-sweet notes. 
Fragrance energy: Lemony-sweet
Properties: Balancing, uplifting and gently warming
Complementary blending: Lavender, Grapefruit, Lemon, Coriander leaf, Neroli, Grand fir, May chang, Lemongrass, Juniper, Jasmine absolute, Roman camomile, Coriander seed, Helichryum

Caution: Bergamot increases skin photosensitivity: avoid any exposure to sunlight, including sunbed tanning, for at least 20 hours after applying Bergamot oil on the skin.

For external use only. Properly dilute all essential oils in lotion or vegetable carrier oil before massage or other topical use. Keep out of reach of children. If you are pregnant, nursing, have any health conditions, or are taking medications, please consult your healthcare provider prior to using essential oils.