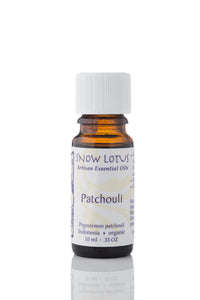 Organic Patchouli Essential Oil (Snow Lotus) [10ml]
10 ml

Botanical source: Pogostemon cablin
Plant part used: The leafy herb
Origin: Indonesia
Production: Cultivated, organic
Extraction method: Steam distillation of the dried, slightly fermented leafy herb. Snow Lotus Patchouli is free of other plant additives such as Java patchouli, which is often used in Patchouli production
Ingredient: 100% Patchouli

Fragrance profile: A rich, smooth, full-bodied sweet woody, rooty oil with velvety wine-like notes in the upper registers. This distillation is the 'light' type. 

Fragrance energy: Sweet-woody

Properties: Stabilizing, centering, calming

Complimentary blending: Vetiver, Siam wood, Sandalwood, Atlas cedarwood, Spikenard, Myrrh, Geranium, Rose absolute, Neroli, Bergamot, Mandarin, Petitgrain

Click here for a Quick Reference guide on how to use your essential oils and blends.
For external use only. Properly dilute all essential oils in lotion or vegetable carrier oil before massage or other topical use. Keep out of reach of children. If you are pregnant, nursing, have any health conditions, or are taking medications, please consult your healthcare provider prior to using essential oils.