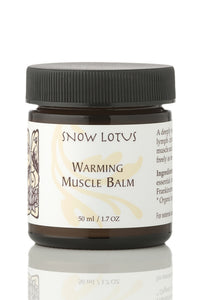 Warming Muscle Balm (Snow Lotus) [50 ml/ 1.7 oz]
50 ml / 1.7 oz

A deeply warming ointment that promotes blood and lymph circulation, warms cold tissues and relieves muscle and soft-tissue discomfort and stiffness. Use freely as needed on areas affected by cold and damp.
It is eco-friendly, vegan, gluten-free and not tested on animals.
Click here for a Quick Reference guide on how to use your essential oils and blends.

Chinese Medicine functions: Activates blood and Qi, warms and opens the meridians, dispels wind, damp and cold, and relieves pain

Ingredients:
Grapeseed oil,

Argan oil*,

Beeswax,

Essential oils of: Cajeput*, Laurel*, Spike lavender*, Frankincense, Nutmeg and Pimenta berry




* Organic ingredients
For external use only. Do not get near eyes, nose or genital area.