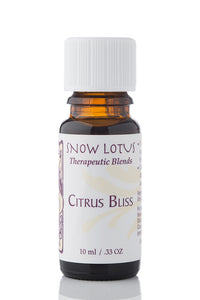 'Citrus Bliss' Essential Oil Blend (Snow Lotus) [10 ml]
10 ml

Clear, fresh and balancing ... the essence of uplifting citrus in a bottle.
Citrus Bliss may also be a useful blend for mental distraction, listlessness, mood swings and worry.
Click here for a Quick Reference guide on how to use your essential oils and blends.

Dominant oils: Bergamot, Mandarin, Grapefruit
Bergamot

: Fresh-citrus topnotes mingling with full-bodied fruity-sweet-green notes.

Mandarin

: A fresh, tangy oil that mixes bright citrus with sweet fruity notes.

Grapefruit

: A tangy, sweet citrus that gently awakens, uplifts, and restores.
Chinese Medicine functions: Regulates the Qi and harmonizes the Mind
For external use only. Properly dilute all essential oils in lotion or vegetable carrier oil before massage or other topical use. Keep out of reach of children. If you are pregnant, nursing, have any health conditions, or are taking medications, please consult your healthcare provider prior to using essential oils.