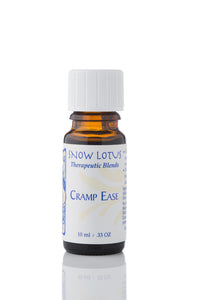 'Cramp Ease' Therapeutic Blend (Snow Lotus) [10ml]
10 ml
Cramp Ease is a pungent, fresh-green blend for relief of menstrual cramps, mid-cycle ovulation pains, etc.
Click here for a Quick Reference guide on how to use your essential oils and blends.

Dominant oils: Lavender, Rosemary, Marjoram, Roman camomile, jojoba

Lavender

: Soothes, calms and harmonizes, relieving nervous tension, irritability, and insomnia.  

Rosemary

: Stimulating and awakening in conditions of low energy and lethargy.  Rosemary is warming and relaxes tense, painful muscles.

Marjoram

: Calming, cooling, and balancing.  Diffuses states of overstimulation.  Relieves irritability and restlessness, reduces anger and worry.

Roman camomile

: Diffuses nervous tension and overstimulation.  Reduces muscle pain and spasms.
Chinese medicine functions: Activates Blood and Qi, reduces stagnation and relaxes constraint
For external use only. Properly dilute all essential oils in lotion or vegetable carrier oil before massage or other topical use. Keep out of reach of children. If you are pregnant, nursing, have any health conditions, or are taking medications, please consult your healthcare provider prior to using essential oils. 
Customer Reviews
Amazing product!!
Absolutely in love with this product. Works instantly, smells wonderful and a little bit goes a long way. Has a pleasant warming feeling and is overall relaxing and gives so much relief. Great service overall and will be purchasing in the future.