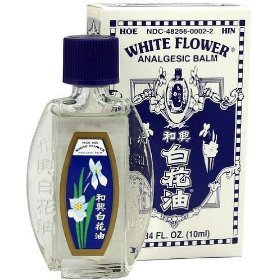 White Flower Oil (med, 10mL)
Another staple of every modern Chinese Medicine cabinet, White Flower Analgesic Balm is known throughout the world. The product was developed in 1927 by Gan Geog Eng, a resident of Singapore.
White Flower Oil is indicated for temporary relief of aches and pains of the muscles and joints, such as problems of backache, arthritis, sprains, bruises, and strains; it has also been found useful for headache and neck ache. Typically, it is applied three times a day. 
Click here for more information in our Product Primer series!
Ingredients:
Wintergreen (40%)
Eucalyptus (18%)
Peppermint (15%)
Menthol (15%)
Camphor (6%)
Lavender (6%)
Quicklinks to the other sizes: (small/large)
Customer Reviews
03/14/2020
Lovemymichigan

United States
Great way to ease the pain
My mom has used this many years and now (at 68 years) I use it for my arthritis and small pain. She called it "Magic Oil". Smile You do not need to put a lot on. Just massage it into the skin. If you put too much, the smell can be overpowering (the menthol and eucalyptus). As you rub it in, you feel the warmth it generates and stays on for several hours. If you have a cold, the smell last longer around the outside of your nose. Again, rub on small amounts. I have tried other analgesic products but I keep coming back to this brand. I would highly recommend this product. :-)