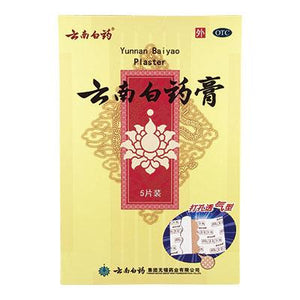 Yunnan Baiyao Plasters (5pk)
$1185

$11.85

Save $-11.85
---
---
Each package contains:
5 medicated plasters measuring 2"x4"
Yunnan Baiyao effects / functions:
Use on sinew injuries or closed fractures to break up accumulations of stagnant blood.  Activates blood circulation, reduces swelling, stops pain.  
Method of use / Directions:

This formula is presented here as a medicated plaster for acute muscular injury or trauma, even with swelling or inflammation. 
For sprains, bruises, twists, pulls and other muscle issues, do the following:
Clean and dry the affected area

Remove plaster from plastic backing and apply to affected area.

Plaster will remain effective for 4-8 hours.

Do not apply to extremely hair skin.  Highly adhesive plaster may hurt skin upon removal.

Do not use more than 2 per day.

Do not use 1 hour prior to bathing or 30 minutes after bathing.
Active Ingredients:
Camphor (11%)
Capsaicin (0.25%)
Methyl salicylate (14.24%)
Click here for other Yunnan Baiyao Products:
Powder (incl. Red Pill) (4g)
Tincture (50ml)
Capsules (incl. Red Pill) (16pk)
Aerosol (incl. Red Pill) (115g)
Customer Reviews
Never a worry when I order from Epsilon Acupuncture
It's super easy to order from Epsilon Acupuncture and products come in a timely fashion. Thank you!
03/25/2020
Anonymous

United States
Yunnan Baiyao Plasters
The product came in a timely manner and was exactly what I ordered. Thank You!