Yunnan Baiyao Capsules [16/pk]
Each package contains:
16 capsules of Yunnan Baiyao (250mg per capsule)
1 Red Pill in the center of the package, as seen below: (Only genuine, original Yunnan Baiyao includes this Red Pill)

Click here for information on giving this medicine to your dog
Click here for general dosage guidelines
What is the Red Pill and why is it so important?
Click for more information on how Epsilon Acupuncture's Courtesy Return & Refund Program may help you worry less.  
Method of Use / Directions:

This formula is presented here as an encapsulated powder for acute injury or trauma, swelling, or inflammation. These capsules can be taken internally, or broken open and used externally. 
Internally:
Up to 2 capsules, two to four times daily.
Not intended for long-term usage.
Externally:
Open the capsule and mix the powder with water, petroleum jelly, jojoba oil, or some other liquid, to make a paste.
Apply paste to the wound and secure with gauze.  
Clean and reapply paste every 2 days or as needed/recommended.
What is the B-Stock?

Our B-Stock inventory are boxes of Yunnan Baiyao capsules that have cosmetic box damage.  The damage may include slight crushing of the box, or tears in the packaging.  

All B-stock inventory is inspected by hand, to guarantee that the damage is only cosmetic. 
All capsules and red pills are guaranteed to be intact, and will be automatically awarded an 10% discount per box!
Yunnan Baiyao effects and functions:
Use on sinew injuries or closed fractures to break up accumulations of stagnant blood.  Activates blood circulation and appropriate coagulation, reduces swelling, stops pain.  
Customer Reviews
11/20/2020
Anonymous
United States
Great Product
My dog is doing very well with this product. It is part of his arsenal to help him with his cancer.
11/13/2020
Anonymous
United States
Very good.
Very good for the time she had left.
11/13/2020
Anonymous
United States
Excellent service
Initially our product didn't arrive as scheduled by the USPS tracking. As this product is a life lengthening treatment for our dog with a medical condition, it was imperative that we have the product by a certain date. When it didn't arrive, Epsilon's service team stepped up to the plate - seven though it wasn't their fault. I greatly appreciate good customer service as it isn't provided at most companies any more.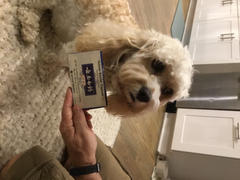 11/11/2020
Dina S.
United States
Great / thank you! So reliable!
11/09/2020
Jennifer B.
United States
Great product
The item is priced right and the quality is good.